Discover more from Learn Create Share
Your weekly dose of inspiration and resource to help you grow, create and be generous.
Watering Holes
Learn Create Share 26: Farewell to #Inktober and a new creative prompt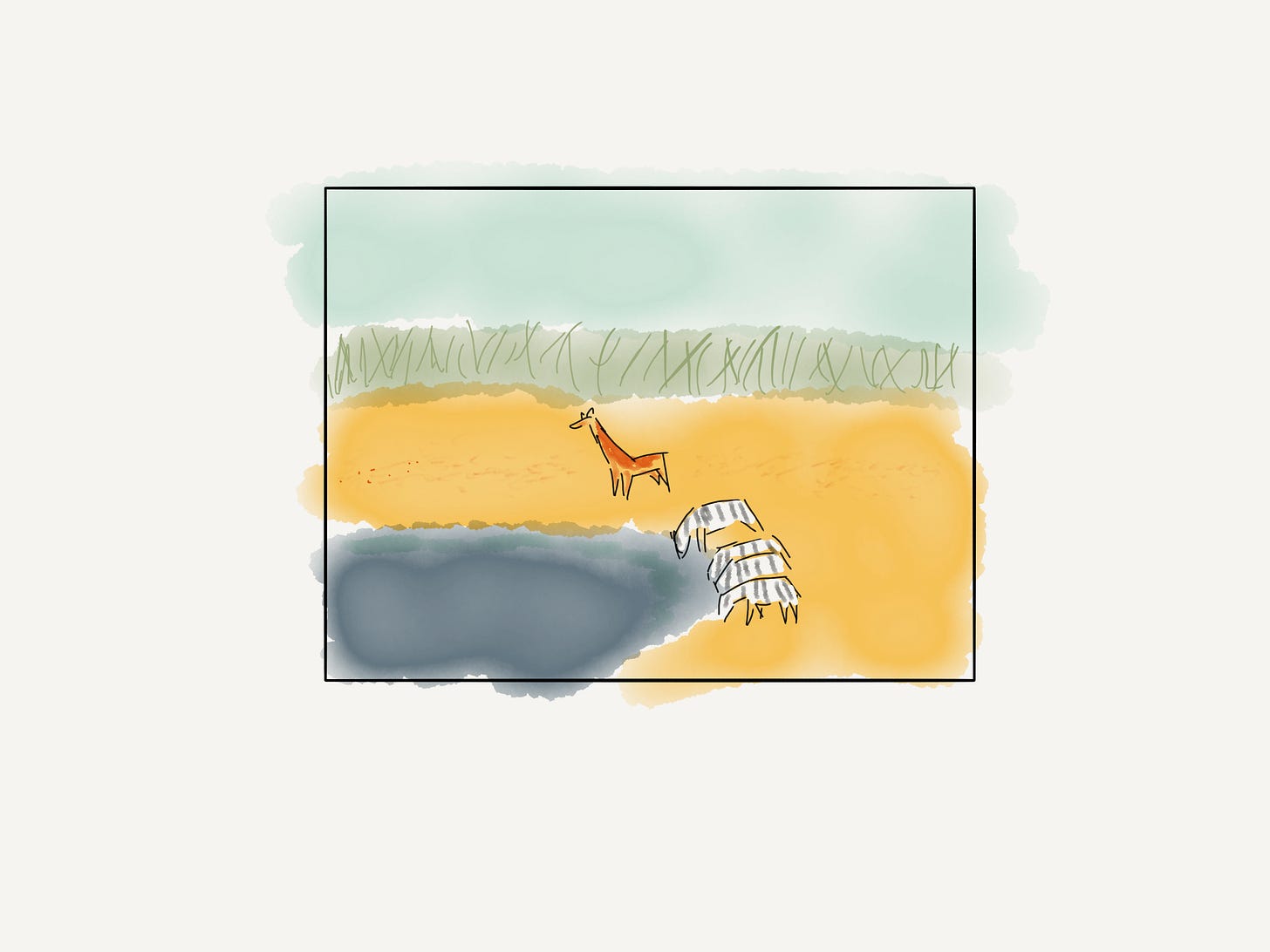 I've been thinking about online watering holes this week. Both the one's I visit, and creating one.
It all started with seeing a list of places someone goes to "mine for ideas and content". This is an idea I've seen other people share but I didn't like the analogy.
A mine is a place where you work hard to extract something precious. There's a lot of dirt and cruff you have to get through to find a tiny slither of gold. Usually, the miners don't get rewarded for all their effort.
A watering hole on the other hand is an open place for all the animals. They come there to get refreshed and rejuvenated. Sometimes there are bad seasons and the watering hole dries up. This reflects the sites I like to visit. They provide ideas and inspiration without needs to scrape or dig. Sure, sometimes it can take effort to ingest, but I don't have to discard 90% of the content there.
Poluted watering holes
Unfortunately, there are also polluted watering holes. Places that have water, but it's bad. These are places I keep going to but I find myself feel queasy afterwards. Usually, they are news sites or places to scroll away the hours.
Building a watering hole
I want to make a place that is a watering hole. Where you can come with your herd and be refereshed. Where it isn't difficult to find something of value, and there is more than enough for everyone.
I'm restarting daily writing for Learn Create Share (the website) next week. (I won't be publishing daily. I'm not crazy.) I will be sharing some more refreshing content, expanding on the three elements. Learn, Create, Share.
---
Creative challenge: Make a list of good watering holes
This week has potential to be a horrible toxic news cycle. So it's good to have some watering holes to go and hide out at. Make a list of five good watering holes where you can go to be refreshed.
Then share your list with others (have you joined the Learn Create Share discord yet?)
---
A farewell to #Inktober
#Inktober is finally over so I decided to collect all my little images together and take a group shot. I didn't bother sharing any to Instagram during the process this year which was quite a change. I certainly find Inktober to be an easier challenge to complete. As long as you have a pen and paper, you can attempt a little image.
So long and thanks for all the prompts.
---
Thread on ethically making money
I discovered this thread on Twitter and I thought it was useful for creatives. While some people are great at "selling themselves", many of us aren't. (Also, maybe that creative activity should just remain a hobby. That's okay.) The principles in thread are ones which I feel many creatives will be able to live with.
Be generous, be even more generous, and then ask.
---
Reading in a world of Covid-19
This article from Nicholas Bate was a great wake up call. I had been neglecting my reading but it is a fantastic antidote to much of the disaster news we hear 24/7. Time to pick up a new book.
Thank you and a request
Thank you for taking the time to drop by and read. I hope you found at least one interesting item in this week's newsletter. Here are three ideas.
Forward this newsletter with a friend who might be interested in it.

Tap the heart at the bottom, it actually helps

Reply and let me know what you enjoyed/disagreed with.
See you next week. And take care of yourself.